How much to your patients know about stabilization and maintenance of their US corrections?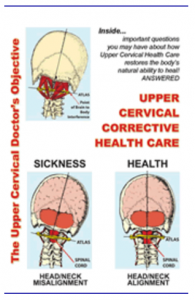 Pivotal to our success with new patients is their understanding of the process of the Upper Cervical alignment / correction, and how each adjustment is tailored specifically to the patient's unique problems.
But just as important is a patient's understanding of how the stabilization period works, and how important it is for them to return for a checkup during those critical first weeks, to monitor progress of the healing and to make sure the alignment is holding.
Stabilization and a health maintenance routine
Patients need to know how these three factors contribute to their return to health, and how important their role is in their own recovery. An understanding of your objectives for their return to health helps to cement the concepts of Upper Cervical, helps them be good patient partners, makes them aware of the importance of keeping their correction, and remembering to return on a regular basis for a health maintenance check up.
1. Acute Care Patients have found their way to your door because of an acute problem. Your ability to restore head/neck alignment to reactivate the body's natural healing process, is the best way to relieve pain and symptoms, as quickly as possible. So tell them!
The foundation of your corrective plan is rooted in reading, interpreting, and understanding the patient's X-rays. So, when reviewing your findings with patients, help them understand of the mechanics of what's ahead in order to set expectations. Don't just share the X-rays, but demonstrate with a model or by using your hands, how a correction takes place, how the painlessly manipulation of only the top few vertebrae of the spine, achieves a realignment that brings on healing. Emphasize why alignment is pivotal to restore health and wellness.
2. Body Stabilization and Healing Care Most patients experience positive results in the first visit or two to their Upper Cervical doctor. So tell them! Emphasize that most important part of the healing process are those first six to eight weeks after the correction – when the body is returning to health. It is also the easiest time to lose the correction. Tell them how to maintain their new alignment by reminding them what NOT to do.
3. Health Maintenance Care In terms of keeping patients healthy, get them on a regular schedule of health maintenance check ups. Routine visits on a regular schedule keep minor health issues from becoming acute problems. Moreover, those first few critical weeks after the initial adjustment are the most important time for patients to return for a check up. Is the alignment holding? How do they feel? What incremental improvements can they tell you about?
Don't let a patient leave the office without first booking a follow up appointment during the recovery period.
Yes, we know all that
You're a UC doc, you know all this stuff. But It's easy to gloss over the familiar.  For new patients though, this is uncharted territory, a little uncomfortable and a little unfamiliar.
A new patient has a lot to absorb in that first visit, the Report of Findings, the first correction, getting used to what to expect going forward.
That's where we can help
Our booklet, "The Upper Cervical Doctor's Objective."  helps your patients understand the process of the correction and how to keep that first correction. It reminds them of what they have learned on their first visit, provides a list of do's and don'ts to follow to maintain their correction, and most importantly, why during recovery, it is important to return to the Upper Cervical doctor for a check up. All are spelled out in "The Upper Cervical Doctor's Objective."
Sending patients home with an extra copy means that family and friends can read up on how your skills can help them maintain their optimal health.
These booklets work because the simple message resonates with patients, because it is understood by young and old, and because it is reminds patients that their return to health is guided by your expertise as an Upper Cervical doctor.
Don't miss the opportunity to get this literature in their hands. Staple your business card in the space provided on the inside cover, and send it home with your patients as you make that next follow up appointment.
Bless you for the work you do.